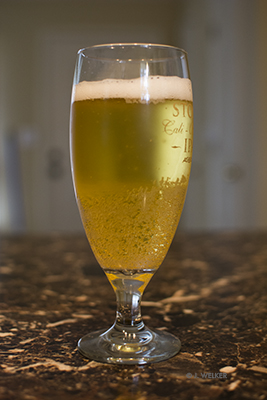 Something curious is happening in the beer-journalism-blogosphere. There's a word that's been popping up a little more frequently, which, in and of itself would not be all that peculiar, except that this use of this word has all but been relegated to the local dive-mart as the Craft Beer Boom occurred.
"Lager."
I have plenty of opinions on this one: on the style, its potential resurgence, as well as on other writers' speculations. But I'd rather speculate as to "why."
Belgian Triples were the key to my entrance into the craft beer scene. From there, the Dubbels, then the ambers, and as my palate developed, the pales. Before long I was a full-fledged Hop Head searching for pine, resin, and grapefruit in the biggest, baddest, most bitter Imperial IPA's I could find.
And it seemed like the market was doing the same. At the onset, the Craft Beer Boom seemed to be focused on the classics: just introducing fantastic recreations of European staples, with BJCP friendly grain bills. Then it became about the Pales. Every microbrewery was swinging for the fences. Then when that became boring, everyone began following the industry's renegades like Stone and Dogfish Head, creating concoctions that had no category. And it was all about the ale.
The lager was essentially left behind long ago. With the rare exception of producers like Sam Adams, the lager represented both the dark ages of American beer as well as what we grew to hate: the Big Three and now InBev.
But now there are murmurs and signs. Brewers are beginning to speak of it again. Occasionally a few find themselves some space on the taplist at your local tap room. And people are speaking of it with a bit more reverence.
And the biggest indicator that another change is on the horizon should be the recent surge in Frankenbiers: beers cobbled together with fermentables and aromatics that reek of desperate brewers trying to find out where the next niche is. When we're seeing descriptors like "a pale ale brewed with Belgian sour yeast, dandelion root, sand from Myrtle Beach, aged in cardboard boxes used to ship Moet (and it's also a porter – don't ask how) tells us that experimental phase has probably run its course.
So where's the market going next? The beer community's palate won't stand for the quality of a Bud Ice, but the lager was America's beer, and we miss it. We just want it executed with the same care and culinary attention as our favorite microbrew. And it's this writer's opinion that this is exactly where we're heading next: Back to basics and back to roots, but don't expect the next "big thing" to be anything like your grandfather's lawnmower beer.